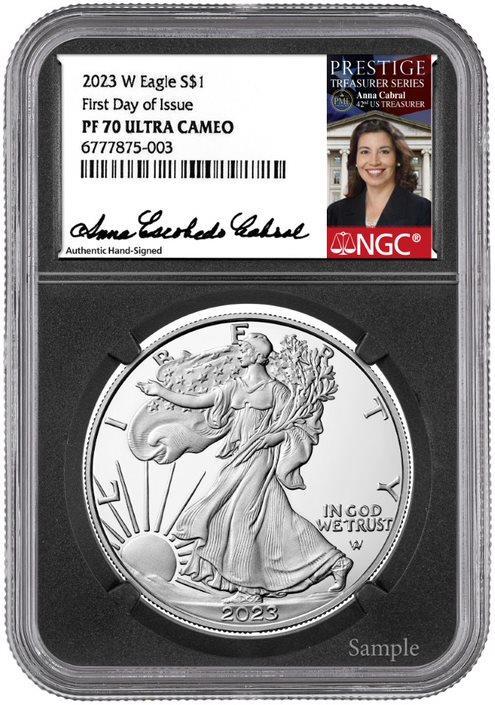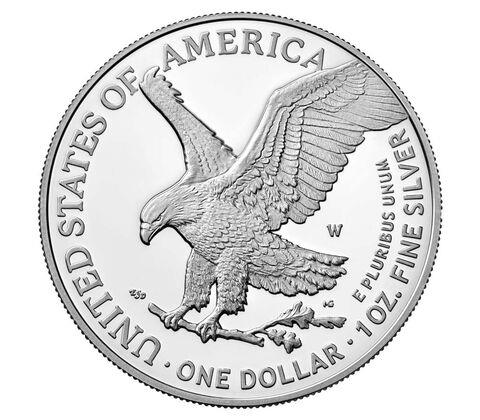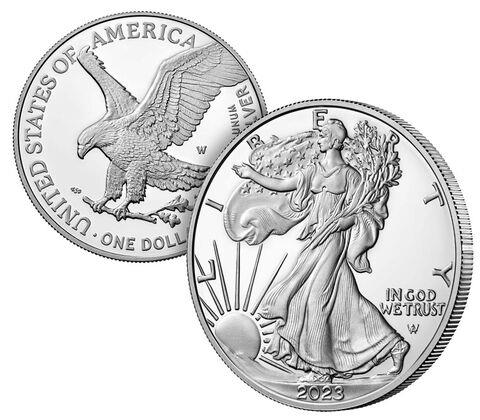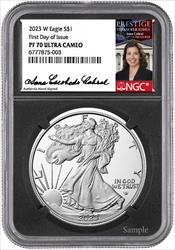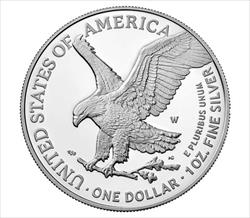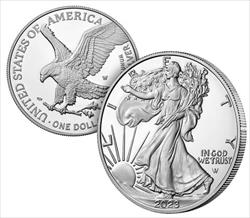 2023 $1 American Silver Eagle First Day of Issue PF-70 NGC Anna Cabral
---
---
Please note this is a PRESALE item and is expected to ship on or around mid-March. ALL orders containing this product will be held from shipping until at least March 14th, 2023. This ship date may vary slightly as it is wholly dependent upon the mint meeting their production schedule.
Proof American Silver Eagle Coins are popular with collectors. While the traditional release is sought out by those who love the collectible coin purely for its natural visuals, certified versions of the coin are also popular among purists who seek out coins with little or no imperfections. Right now, 2023-W 1 oz Proof American Silver Eagle Coins in perfect condition certified by NGC and authentically hand-signed by Anna Cabral are now available!
Coin Highlights:
Arrives in an NGC protective plastic slab!
37th issue of 1 oz Proof American Silver Eagle Coins!
Limited availability of certified perfect coins!

Contains 1 Troy oz of .999 pure silver.

Bears a face value of $1 (USD) backed by the federal government.

Issued a Grade of PF70 by the Numismatic Guaranty Corporation.

UCAM visuals.

First Day of Issue.

Walking Liberty obverse.

American bald eagle reverse.

Comes with a W mint mark from the West Point Mint.
Each 2023-W 1 oz Proof American Silver Eagle Coin available here comes in perfect condition with a plastic slab to preserve its present state. PF70 coins exhibit full, original mint luster and have no imperfections present.
Additionally, these coins are ultra-cameo proofs with a First Day of Issue label from the NGC. UCAM coins have strong, frosted designs with deeply-mirrored, clear fields. First Day of Issue is a label for coins received by the NGC for certification within 24 hours of release from the US Mint.
Walking Liberty is found on the obverse of 2023-W Proof American Silver Eagle Coins. Designed in 1916 by Adolph A. Weinman, this full-length figure of Liberty is shown in left-profile relief walking toward the sun on the horizon. Her right hand is outstretched as her left carries branches of oak and laurel. Her figure is draped in the American flag.
An American bald eagle is on the reverse side of the 2023-W 1 oz Proof Silver Eagle Coin. This 2020 design from Emily Damstra debuted on the coins in 2021 and marked the first redesign of the coin in history. The image shown here features an eagle swooping downward with an oak branch in its talons.

FDI PF-70 Anna Cabral

The American Silver Eagles are the first on every collector and investors wish list at the beginning of a new year. Quality goes first! These FDI PF-70 Anna Cabral American Silver Eagles are nothing short of quality. The First Day of Issue pedigree means that these were some of the first coins struck with the freshest dies and bear the most crisp and beautiful strikes. There are limits to the availability of First Day of Issues due to requirements from the grading services having to receive these coins over-night after the first day of production at the US Mint. In addition, these crisp coins are also guaranteed as a flawless specimen by NGC. To have a flawless graded coin means that generations to come will be able to enjoy the beauty of these coins years down the road and they can be traded anywhere in the world sight-unseen. To top that off, PME offers our clients low populations of the 42nd US Treasurers authentic signature. Every investor looks for low supply in high demanded areas, and every collector wants the highest quality. Here at PME, our clients are able to obtain the finest known specimens of this year's 2023 American Silver Eagles.

| | |
| --- | --- |
| Year | 2023 |
| Grade | PF70 UCAM |
| Pedigree | FDI Cabral |
| Grade Service | NGC |
| Mint Mark | W - West Point |
| Purity | .999 |
| Manufacturer | US Mint |
| Thickness | 2.98 mm |
| Diameter | 40.6 mm |
| Condition | Proof |
| Face Value | $1 |
| Issuing Country | United States |
| Obverse Designer | Adolph Weinman |
| Reverse Designer | Emily Damstra |
| Edge Design | Reeded |
| Series | American Eagle |