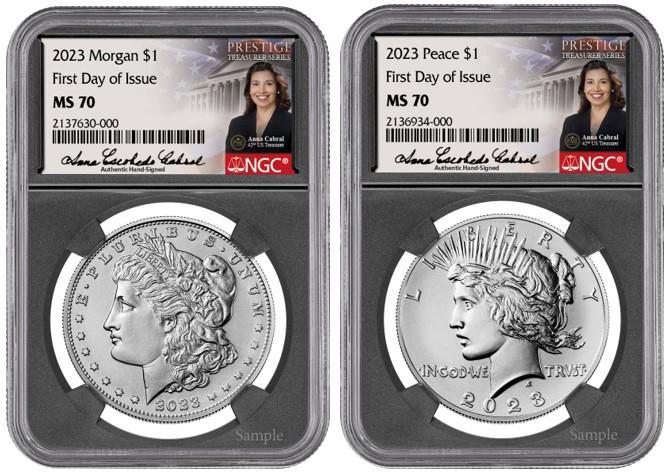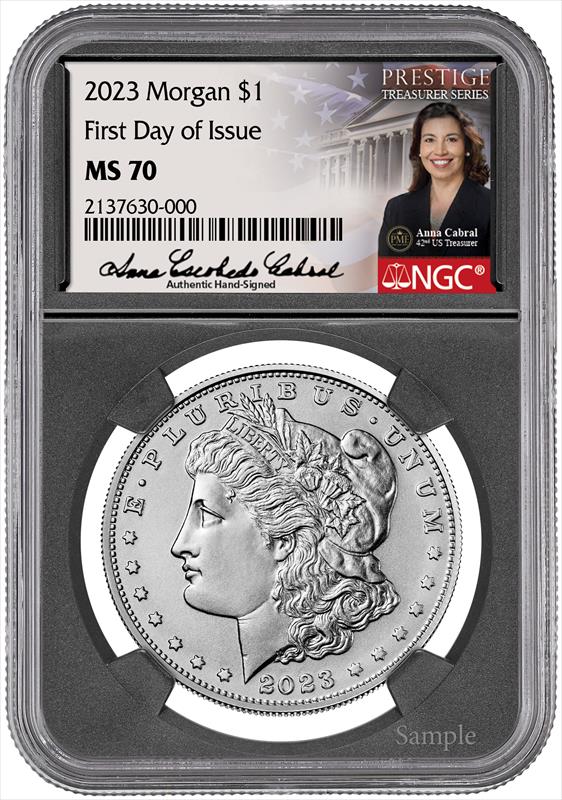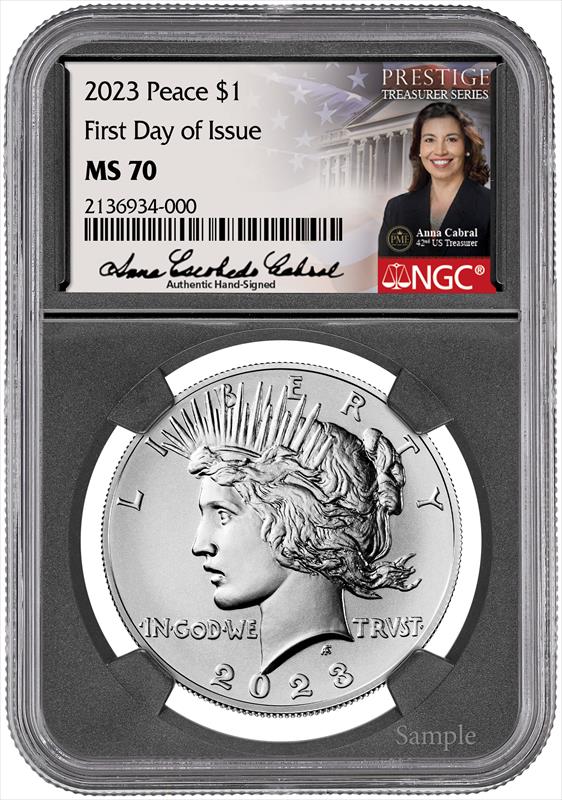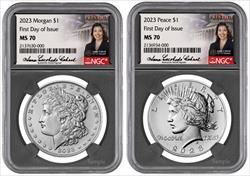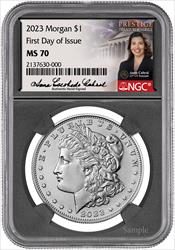 2023 $1 Morgan & Peace Silver Dollar Set, FDI, MS70, NGC, Anna Cabral
---
---
Enhance your collection with this NGC-certified Mint State 70 First Day of Issue 2 Piece 2023(P) Morgan & Peace Dollar Set authentically hand signed by Anna Cabral on our exclusive Prestige Treasurer Series labels!
Why purchase this 2023(P) 2 Piece Morgan & Peace Dollar Set?
In 2021, the U.S. Mint treated collectors to 100th-anniversary issues that marked a century from the last Morgan Dollar and the first Peace Dollar. These issues proved extremely popular among collectors, who have loved both coins for decades. After not releasing versions of the coin in 2022 due to a shortage in silver blanks, the U.S. Mint brings them back in 2023, and this set consists of one of each.
Each coin in this set is $1 US legal tender.
Each piece was struck at the Philadelphia Mint.
Each coin was struck from .859 troy ounces of .999 fine silver.
No more than 275,000 of each 2023 (P) Peace and Morgan Dollar will ever be released!
Powerful Liberty Designs by George T. Morgan and Antonio de Francisci
Morgan Dollar: Designed by George T. Morgan, the Morgan Dollar features an American-style Liberty on the obverse. She wears a Phrygian cap. Rim inscriptions include the statutory motto 'E PLURIBUS UNUM' and the date, '2023.' On the reverse, an open wreath partially encircles an eagle, which holds arrows and an olive branch. Inscriptions on this face include the national motto, 'IN GOD WE TRUST,' the issuing country's name, 'UNITED STATES OF AMERICA,' and the face value of the coin, 'ONE DOLLAR.' George T. Morgan was the seventh US Mint Chief Engraver.
Peace Dollar: Antonio de Francisci designed both faces of the Peace Dollar. On the obverse, Liberty faces left wearing a radiate crown. Obverse inscriptions include her name, 'LIBERTY,' the national motto, 'IN GOD WE TRVST,' and the date, '2023.' The reverse features an eagle perched on a rocky crag in the early morning sun. The name of the issuing country, 'UNITED STATES OF AMERICA,' the second statutory motto, 'E PLURIBUS UBUM,' the coin's face value, 'ONE DOLLAR,' and the word 'PEACE' are inscribed on this face. Antonio de Francisci was an immigrant from Italy and a prolific sculptor.
MS70 FDI with Exclusive Signature Labels
Both of these coins earned Mint State 70 (MS 70) grades and First Day of Issue (FDI) certifications from the experts at Numismatic Guaranty Company (NGC). The MS70 grade indicates that a coin appears perfect even under 5x magnification, while the FDI designation notes that it was submitted to NGC for grading within 24 hours after its initial release from the mint. This pedigree indicates that these coins were struck with the freshest dies and sharpest strikes. This information is provided on exclusive Prestige Treasurer Series labels authentically hand signed by the 42nd US Treasurer, Ms. Anna Cabral.
Add this 2 Piece 2023(P) Morgan & Peace Dollar Set to your collection today!
| | |
| --- | --- |
| Minting Facility | Philadelphia |
| Country | United States (US) |
| Denomination | $1 |
| Mintage Limit | 275,000 |
| Mint | U.S. Mint |
| Year of Issue | 2023 |
| Composition | Silver |
| Diameter (mm) | 38.1 |
| Edge Type | Reeded |
| Finish | Uncirculated |
| Grade | MS70 |
| Pedigree | First Day of Issue |
| Grading Service | NGC |