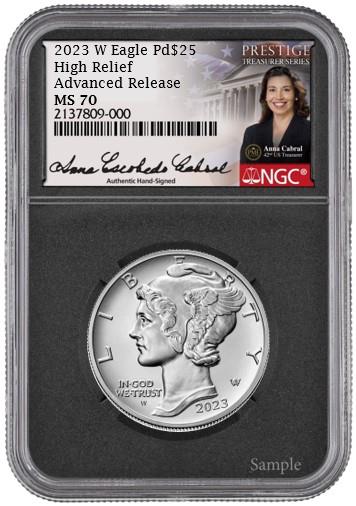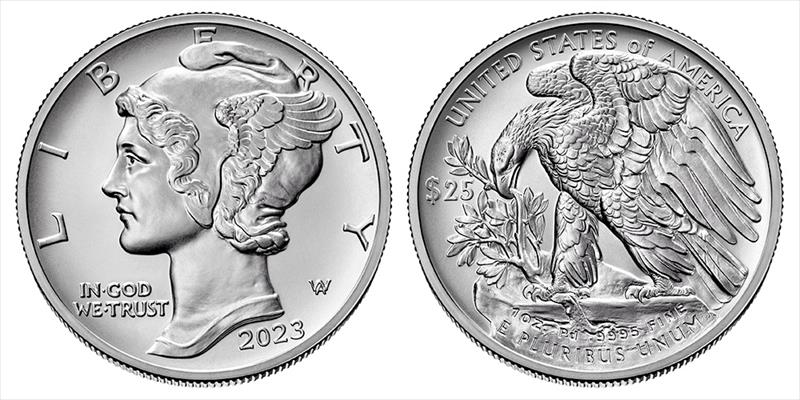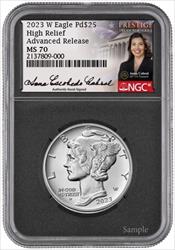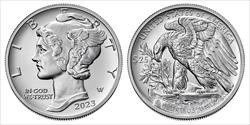 2023-W $25 1oz. Burnished American Palladium Eagle, AR, MS70, NGC, Anna Cabral
---
---
The American Palladium Eagle is a distinctive release in the American Eagle Series of bullion coins from the United States Mint. The Palladium Eagle debuted in 2017 and has been issued each year by the mint in a different version, starting with a Brilliant Uncirculated coin that year. One year only, in 2021, the US Mint released a bullion version as well as a proof version. For the 8th issue in 2023, the United States Mint is releasing the second Burnished version of the beautiful Palladium Eagle. This release will have the lowest mintage limit ever produced for this series. Don't miss your chance to pick up the rarest Palladium Eagle at the lowest price!
Coin Highlights:
Arrives inside of a protective plastic slab from the NGC!
8th

issue of the American Palladium Eagle!
Limited initial mintage of only 6,000 coins!
Limited availability of certified perfect coins!
Contains 1 Troy oz of .9995 pure palladium.
Bears a face value of $25 (USD) backed by the federal government.
Issued a Grade of MS70 by the Numismatic Guaranty Corporation.
Advanced Release Pedigree on our Exclusive Prestige Treasurer Series Label
The obverse side comes with a depiction of Winged Liberty.
On the reverse face of the coin is the American bald eagle on a mountain cliff.
'W' mint mark from the West Point Mint
High Relief Finish
Each of the 2023-W 1 oz Burnished American Palladium Eagle Coins available here from Prestige Metals Exchange comes in perfect condition according to the NGC. Coins in MS70 condition exhibit full, original mint luster with no detracting flaws of any kind present on the design elements and background fields. These coins also come with an Advanced Release pedigree on our exclusive Prestige Treasurer Series label indicating the coins were received by the NGC prior to the release by the US Mint.
The new Burnished American Palladium Eagle undergoes the same coining process that other Burnished American Eagles do. The palladium blanks are first polished in a drum before coining to create a clean visual field with matte elements as well. The palladium blanks are then struck by the design die one time and immediately packaged following striking.
The obverse side of 2020-W 1 oz Burnished American Palladium Eagle Coins includes the historic Winged Liberty image. Adolph A. Weinman created this design in 1916 for the US Mint and it featured on the US Dime from 1916 to 1945. Liberty is in left-profile relief wearing the Phrygian cap.
On the reverse face of the 2020-W Burnished American Palladium Eagle Coins is an image of the American bald eagle. The bald eagle is perched on a mountaintop with its wings raised behind it as it pulls at a laurel branch that is growing out of a rock.

Call one of our professional representatives today for your chance at the finest known 2023 Palladium Eagles!
| | |
| --- | --- |
| Year | 2023 |
| Mint Mark | 'W' |
| Purity | .9995 |
| Manufacturer | US Mint |
| Thickness | 2.5 mm |
| Diameter | 34.03 mm |
| Condition | MS-70 |
| Pedigree | AR Cabral |
| Face Value | $25 |
| Issuing Country | United States |
| Obverse Designer | Adolph A. Weinman |
| Reverse Designer | Adolph A. Weinman |
| Edge Design | Reeded |
| Series | American Eagle |
| Metal Weight | 1 Troy Ounce |