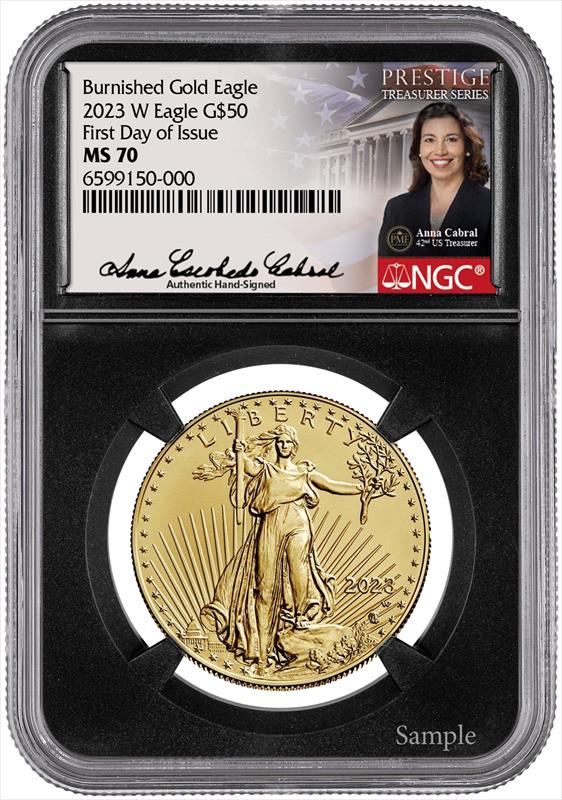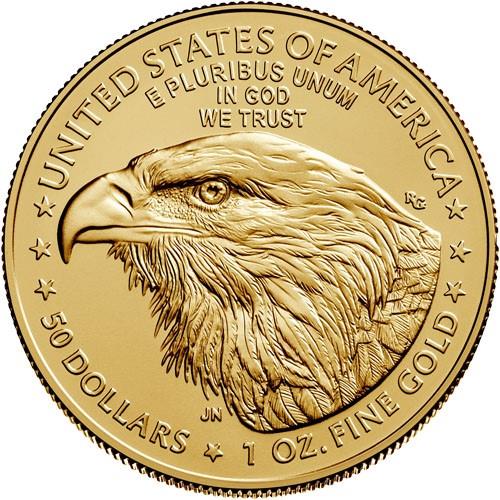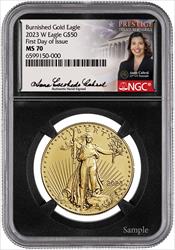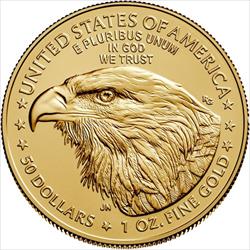 2023-W $50 1oz. Burnished American Gold Eagle, FDI, MS70, NGC, Anna Cabral
---
---
Why Add This MS70 First Day of Issue 2023-W Burnished 1 oz Gold Eagle with a Black Core Slab hand signed by Anna Cabral to Your Portfolio?
The American Gold Eagle has been a favorite of collectors and investors alike since the first of these coins were struck by the U.S. Mint in 1986. The burnished Gold Eagle was introduced as an option during the 20th anniversary of the series. With the lowest mintages in this industry, this area holds a 2-fold advantage for collectors looking for a safe haven asset that is able to increase in value regardless of the spot price due to supply and demand. The series also had its first major design change, with a transition to a new reverse design in 2021. The West Point Mint struck this burnished Gold Eagle for 2023 as the 3rd among the type-2 series.
This coin was certified by Numismatic Guaranty Corporation (NGC).
This 2023-W burnished Gold Eagle is the 1 oz size, and it features an interrupted reeded edge gap security feature.
The mintage is limited to no more than 10,000 pieces!
The current sales figures look promising for this 2023 to become the RAREST Burnished Gold Eagle ever minted!
Classic Liberty and New Bald Eagle Designs
Obverse: If you're looking for the date or the 'W' mint mark, both of those are located on this side of the coin. This Liberty design was originally created by Augustus Saint-Gaudens in the early 1900s. This version was slightly modified in 2021 to be more like the original.
Reverse: The new bald eagle design is on the reverse. Unlike the previous reverse design, this one shows a single bald eagle. Only its head and neck are visible, the perspective is very close. The eagle displays a very high level of detail.
MS70 First Day of Issue with a Black Core Holder Hand Signed by Anna Cabral
This burnished Gold Eagle has a black core holder and an authentically hand-signed Prestige Treasurer Label to show its grade from the Numismatic Guaranty Corporation (NGC). Since this specimen is in perfect condition and it was submitted over night to NGC, it received the grade of Mint State 70 and the special First Day of Issue designation. Being that Anna Cabral is among only a few signatures in this market with NGC Price Guide values, our clients are able to track values on their holdings!
| | |
| --- | --- |
| Year | 2023 |
| Grade | MS-70 FDI CABRAL |
| Grade Service | NGC |
| Mint Mark | W - West Point, NY |
| Weight | 1 Troy oz. |
| Purity | .9167 |
| Manufacturer | US Mint |
| Thickness | 2.87 mm |
| Diameter | 32.7 mm |
| Condition | MS-70 Brilliant Uncirculated |
| Face Value | $50 |
| Issuing Country | United States |
| Obverse Designer | Augustus Saint-Gaudens |
| Reverse Designer | Jennie Norris |
| Edge Design | Reeded with Anti-Counterfeit Variation |
| Series | American Eagle |